Vending Machines Canada in Syncrude Aurora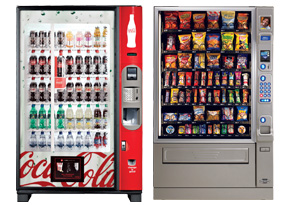 Whether you have been let down with vending service in the past or are looking for vending equipment for the first time, McMurray Coin has Syncrude Aurora covered.
What sets McMurray Coin apart from other choices?
Professionally trained staff, eager to serve you!
Best vending equipment available
Quality products
Huge variety of vended products
In business since 1981
We use the latest handheld computer technology to keep track of your inventory in your vending machines and make sure you are always stocked with your favorites!
Beverages available in Syncrude Aurora:
Pepsi Cola products, Coca Cola products and vending machines with hot beverage and cold selections like coffee and tea, juices and milk products. Energy drinks and sports drinks are just a couple additional options.
When hunger hits, it's no game. We have vending machines to fill your stomach with snacks, hot or cold foods, candy, pastries, Old Dutch brand food and snacks, sandwiches, ice cream, you name it! You choose what goes into your machines, so ultimately you choose what comes out!
Food and drinks are not the only requirements in Syncrude Aurora. We have all kinds of other supplies such as aspirin, bandaids, chapstick, cold remedies and flu and cough remedies. We customize your vending machines to fit your needs and wants! In Syncrude Aurora, please call us at 780-792-0953.