Vending Machines Canada in Suncor Voyageur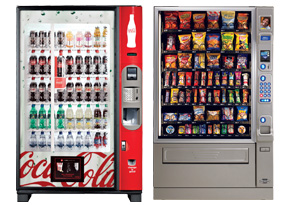 Suncor Voyageur has choices in vending. McMurray Coin is the best possible choice!
State of the art vending machines
Professional, trained staff
Handheld computer technology for inventory tracking
Large selection of vended products
Traditional and healthy food and beverages
Pharmaceutical supplies
Vending machines are customized to your needs. We have Coca Cola products in our vending machine line up as well as Pepsi Cola products. Your Suncor Voyageur location can have coffee vending machines, sports drinks in your vending machines and even juices and milk. We have vending machines for Suncor Voyageur with ice cream, snack vending machines, food vending machines, candy vending machines and vending machines loaded with all your nutritional and healthy food, snack and beverage alternatives. Again, you and your Suncor Voyageur crew pick what goes into the vending machines!
Our pharmaceutical supplies include cold remedies, aspirin, Band-Aids, Chapstick and other essentials. If it can be distributed from a vending machine, we'll have it for you. We back our amazing selection with top notch customer service.
Let's get started today! Just call us at 780-792-0953 or just use the contact us page of our website. We will hook you up!