Vending Machines Canada in Suncor Firebag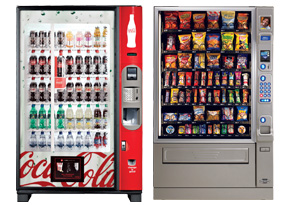 Suncor Firebag is no ordinary place. You need a vending company that can handle the unique needs of the area. McMurray Coin is that company, serving the area since 1981.
We have a huge warehouse of vendible items that ranges from foods and beverages to personal hygiene and health care products. You tell us your needs, and we make sure and customize your vending machines to meet those needs.
Our vending machines are energy efficient and state of the art. Our staff is professional and expertly trained to maintain your equipment and keep you well stocked. They service Suncor Firebag with the latest handheld technology designed to give them the information they need to keep you fully stocked at all times with the items you want and need the most.
Some of our vending options include Pepsi Cola products, Coca Cola products, sports drinks, hot coffee, teas, hot chocolate and juices and milk. We have hot or cold food selections too in Suncor Firebag. Vending machines with sandwiches, pastries, Old Dutch food and snacks, vending machines with granola bars, nuts, chews and other healthy items are also available.
It is not very convenient to leave Suncor Firebag to go and get everyday products you may run short on. We are here to help. Call us at 780-792-0953. You will be happy with this decision, and so will the folks around you!