Vending Machines Canada in Suncor Energy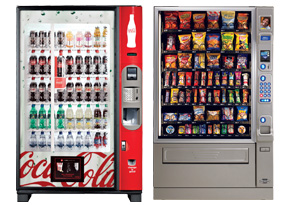 Suncor Energy can use the professional vending services of McMurray Coin!
That's right, we can dial you in with the best in state of the art vending equipment loaded with the most delicious quality products available and backed by a highly trained professional staff. Quite the mouthful, but it's all true! Your Suncor Energy location can get the food, drinks and minor pharmaceutical products it requires through our vending machines 24/7.
Food vending machines, snack vending machines, candy vending machines, hot beverage vending machines such as coffee, tea and hot chocolate – we have what you are looking for. We have vending machines to install at Suncor Energy with everything from ice cream to chapstick. We have Coca Cola products and Pepsi-Cola product vending machines and pharmaceutical vending machines. Because your Suncor Energy needs are so diverse, the products we offer are also!
Our vending machine selection and huge variety of goods offered allows you to customize your vending machines to fit your precise needs. Your Suncor Energy location will be a much better place to live and work.
Fill out our "contact us" page, or simply give us a call today! 780-792-0953