Vending Machines Canada in Shell Muskeg River Mine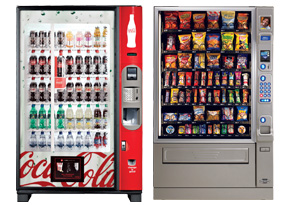 Shell Muskeg River Mine has specific needs for their break room to satisfy their employees. McMurray Coin can help do just that with a selection of vending machines that can be customized to distribute a wide variety of quality products.
Our vending machines will help your Shell Muskeg River Mine eliminate those hunger and thirst feelings that come from working and living hard. You can have vending machines with coffee, hot chocolate and tea selections. Vending machines with Coca Cola products and Pepsi products as well as sports drinks and juice, milk and energy drinks.
In the food department, Shell Muskeg River Mine customers can have candy vending machines, snack vending machines, hot or cold food vending machines, healthy food and drink options in your vending machines too!
Vending machines don't just provide for the food needs in Shell Muskeg River Mine. Our huge warehouse has all kinds of other items such as cold medicine, cough syrups, aspirin, health and beauty products, and much more. We will show you the listing of our vast inventory of items, and you pick what you need based on your specific site. Our professional staff will then set you up and fill and maintain your vending equipment. Your Shell Muskeg River Mine staff will be very happy with your decision in McMurray Coin as your vending provider. Use the "contact us" page or call us at 780-792-0953. Let's get started today!