Vending Machines Canada in Shell Jackpine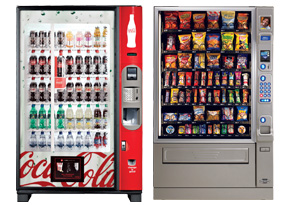 McMurray Coin can supply the items you want, dispensed by the best in vending equipment, and serviced by the most professional staff you'll ever deal with. Shell Jackpine can have a host of items in your vending machines! We have vending machines with sports drinks, vending machines with energy drinks, Pepsi Cola vending machines, Coca Cola vending machines, vending machines with coffee and hot chocolate, candy vending machines, snack vending machines, hot and cold food vending machines and vending machines with healthy beverage and food choices.
The vending products for Shell Jackpine are no way limited to just food and drinks. Shell Jackpine can have pharmaceutical items like cold remedies, aspirin, flu remedies and cough suppressants.
McMurray Coin takes care of Shell Jackpine with customer service that can't be beat! Our staff knows the equipment and the products that the deal with. They carry the latest in handheld computers to track your inventory needs, keeping your vending machines filled with the products you require most.
So don't hesitate any longer! McMurray Coin has been taking care of its customers since 1981, and wants to add you to our list of very satisfied clients! Call us at 780-792-0953!