Vending Machines Canada in North County Catering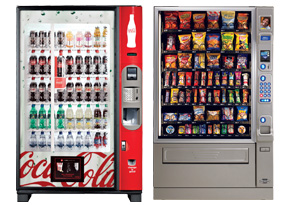 Vending machines are not just for beverages and food anymore! Your North County Catering location can have those items of course, but there are also vending machines with pharmaceutical supplies, personal hygiene items and even tools and batteries and other such items that you can need on a daily bases.
Food and beverage vending machines in North County Catering:
Pepsi Cola products
Coca Cola products
Sports drinks and energy drinks
Coffee, hot chocolate and tea vending machines
Snacks and candy vending machines
Hot and cold food vending machines
McMurray Coin provides North County Catering with superb customer service. Our staff is trained to take care of any equipment issues that may come up. We use handheld computer technology that helps us track your inventory and anticipate your future needs, keeping you stocked with the items you use and need the most.
McMurray Coin also has coffee vending machines available. Ask our sales representative for more information on all the products and services we can provide North County Catering! A quick call to 780-792-0953 is all it takes to get things going. Call now!