Vending Machines Canada in Nexen Long Lake Project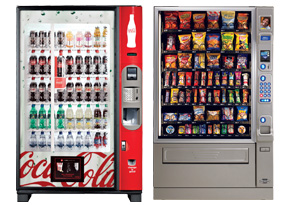 McMurray Coin delivers the best in vending to the Nexen-Long Lake Project. Vending machines loaded with the food, beverages and other of life's necessities for your convenience. Nexen-Long Lake Project can enjoy refreshments from Coca Cola and Pepsi Cola. Coffee, tea and hot chocolate for those cold periods or just as your everyday pick me up to get you moving forward. Your vending machines can be customized to your needs and wants.
McMurray Coin can provide your Nexen-Long Lake Project location with beverage vending machines, candy vending machines, coffee vending machines, snack vending machines, food vending machines, vending machines with healthy foods and drinks and vending machines with personal hygiene items as well as chapstick, aspirin, other medicines and cold remedies. Our vending machines are dependable and energy efficient. Our professional staff will serve your Nexen-Long Lake Project with pride and determination to give you the best customer service possible. They carry the latest in handheld computer technology to help track inventory and make sure you have the products you want when you need them!
So wait no longer. Fill out the information needed on our contact us page or call us now at 780-792-0953. The needs of your Nexen-Long Lake Project location are soon to be met!