Vending Machines Canada in Muskeg River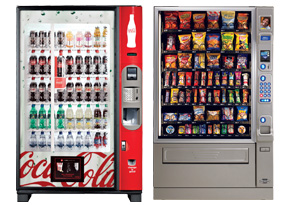 Are you in need of vending services in Suncor Muskeg River? Is your current vending company not quite up to the challenge? Your Suncor Muskeg River location can have the quality products and service it demands from McMurray Coin.
Suncor Muskeg River has its basic needs like any other place. McMurray Coin helps take care of those needs by having a large selection of vending machine choices to choose from. When we say "to choose from", we mean it. You pick what goes into your vending machines.
We have the traditional items such as vending machines with Pepsi Cola products and Coca Cola products as well as all the sport and energy drinks that are available. Juice, milk and fruit drinks, even ice cream and pastries are in vending machines in Suncor Muskeg River.
Food vending machines, candy vending machines, snack vending machines, vending machines with health food items or vending machines with just healthier choices for you to enjoy are also available.
Food and beverages are not the only need in Suncor Muskeg River. Personal hygiene items and pharmaceutical supplies are other vending options.
Nothing means much without your Suncor Muskeg River vending machines being stocked regularly and properly maintained. Our professional staff is here to serve you! Now all you must do is call us at 780-792-0953 or simply fill out the required information on our websites "contact us" page.