Vending Machines Canada in Kearl Project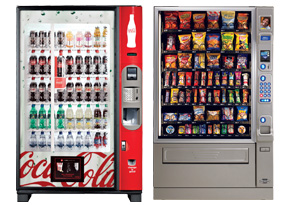 McMurray Coin has specialized in providing vending services to places such as Kearl Project with quality service that is unmatched. Our professional staff is trained to take care of the vending machines we provide. Our drivers carry the latest in handheld computer technology to track your inventory to make sure you are always stocked with the items you use most.
Kearl Project vending machines:
Pharmaceutical vending machines
Hot or cold food vending machines
Healthy alternatives (drinks or food) in your vending machines
Coca Cola vending machines
Pepsi Cola vending machines
Vending machines with sport drinks and energy drinks
Coffee, tea and hot chocolate vending machines
Vending machines with personal hygiene products
Kearl Project is not limited to just these items; these are just some examples of the many things that can be placed in vending machines for Kearl Project! McMurray Coin listens to the needs of our customers, and will customize your vending machines to match what your specific needs are!
Don't go without anymore-call McMurray Coin at 780-792-0953. See what difference it makes dealing with a company that has been around the Kearl Project area since 1981! You may also contact us through our website-Thank you for considering McMurray Coin!