Vending Machines Canada in ESS Camps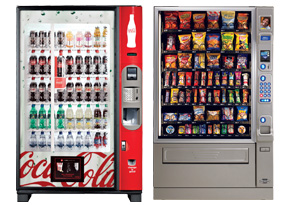 Vending machines in your ESS Camps make really good sense. McMurray Coin has been filling basic needs through vending machines for over 30 years. We have a highly trained staff to fill, maintain and service your ESS Camps vending needs.
Our vending equipment is state of the art and energy efficient. The products they dispense are numerous. You decide what items are vended in your vending machines. Your ESS Camps can choose from Coca Cola product, Pepsi Cola products, milk, juices, hot beverages and more to quench your thirst. Your vending machines can dish up hot or cold meals, snacks, candy, healthy food and beverages, sandwiches, ice cream and pastries. All kept stocked and checked for freshness and excellent taste.
Your ESS Camps basic personal hygiene and pharmaceutical needs can be taken care of by vending machines from McMurray Coin also. Our huge warehouse includes all the products that just make sense for your locations requirements. You customize your vending machines to match the specific needs of your location. It makes sense for all involved to supply the products you know you need and use most often.
Get your ESS Camps going right now! Fill out the form in the "Contact Us" section of our website, or call us at 780-792-0593. Do it now!