Vending Machines Canada in Conklin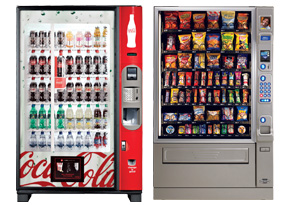 Conklin gets the best in vending machine supplied goods delivered by the best equipment available when serviced by McMurray Coin. We offer a variety of goods in Conklin such as sodas, snacks, foods, hot beverages, pharmaceuticals and even ice cream. McMurray Coin has been doing so for over thirty years.
Our vending machines offer your favorite cold drinks from Coke and Pepsi including vending machines with milk and juice. Vending machines can also be placed in Conklin with all types of different foods, snacks, ice cream, pastries, sandwiches, Old Dutch products and healthy food and beverage alternatives.
Working and living in Conklin has its challenges, and we try and offer solutions at McMurray Coin. We supply vending machines with personal hygiene products, bandaids, chapstick, aspirin and other remedies for the times you are not feeling quite yourself.
Our handheld computer technology allows us to better track your vending usage to insure your vending machines are kept full. Our customer service is ready to serve your needs at all times.
Your part is simple; just give us a call at 780-792-0953. We will get your Conklin location up and running with vending machines from McMurray Coin!