Vending Machines Canada in Syncrude Aurora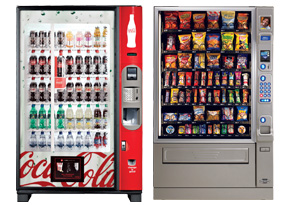 It started out in 1981, created with a passion to serve the needs of people in secluded places who were in need of basic supplies. Let your CNRL Horizon location benefit from over thirty years of experience in taking care of our customers with similar needs as yours.
We have vending machines with a host of different products from soft drinks to toothpaste. McMurray Coin has the latest in vending machines and computerized inventory tracking to make sure you are always fully stocked with the items you need most.
Dependable vending machines for your CNRL Horizon location are backed by our excellent customer service. Our staff is fully trained in the maintenance and repair of our equipment. They are determined to meeting all your vending needs in CNRL Horizon!
Products vended include (but are definitely not limited to) products from Coca Cola, Pepsi Cola, hot and cold beverages, healthy food and drink alternatives, snacks, hot foods, cold foods, candy, sandwiches and ice cream.
The needs of CNRL Horizon are met by supplying more than just food and drink. McMurray Coin can serve up almost anything that fits in vending machines. Personal hygiene products, pharmaceuticals, toiletries and a host of other items are available for you. You choose what products are in your vending machines.
The next process is simple! Call us at 780-792-0953, or contact us through our website!