Vending Machines Canada in Anzac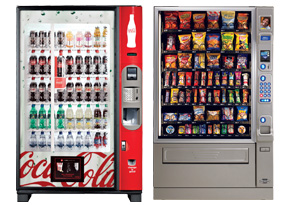 McMurray Coin can supply your site with the vending machines it requires to keep your Anzac site rolling! We offer all kinds of products dispensed by vending machines for our Anzac customers.
Snack vending machines
Beverage vending machines
Food vending machines
Hot beverage vending machines
Vending machines with ice cream
Vending machines with pharmaceutical items like bandaids, aspirin, cold remedies and personal hygiene products
Vending machines with healthy drink and food choices
If it can be vended, we can have the vending machine to do it!
Anzac customers can also benefit from our excellent customer service. Our personnel are professionally trained and use handheld computer technology to best track your usage and keep you well supplied. We supply, maintain and keep your Anzac vending machines full of your favorites, with no hassles.
So call us now at 780-792-0953 and we will have a representative help you determine what vending machine needs we can take care of for you! The folks at your Anzac site will be happy with your choice!